Top of the World Ranch is pleased to announce that our Transitional Living Program (TLP) is now open!

What Is A Transitional Living Program? Wait, let's back up for a moment.
What Is Recovery?
Recovery is a life-long journey that requires daily focus. Recovery is not something you complete. Sobriety is something you can achieve. Did you have a drink today? No? Congratulations, you have achieved one day of sobriety. Recovery, however, is a lifestyle. It is a culture. It is something you live.
What Is A Transitional Living Program?
After a client completes a program at an inpatient treatment facility (rehab), they are not done. Recovery becomes a part of our clients' every day lives. A transitional living program helps transition a client back into the community as a contributing, sober, member of society. It is a safe, healthy and affordable place to start recovery after leaving inpatient treatment.
The transitional living program at Top of the World Ranch is a fully staffed, all male continuing care program that allows the client to reside on our property but not at our inpatient facility. Our TLP house provides a safe and structured environment for our clients to develop and apply the knowledge gained while attending inpatient treatment.

What Makes Our Program Unique?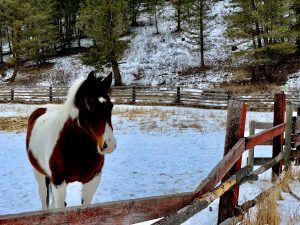 The TLP house is on Top of the World Ranch property a short 5 minute walk from our inpatient facilities. The TLP house sits in a beautiful valley in the Rocky Mountains with stunning views and horses on site. More important than the scenery, our transitional living program is fully staffed and designed with regular weekly programming. This allows our clients to attend and participate in community activities and daily routine off Ranch property and return home with an opportunity to discuss, receive feedback and get support from the TLP staff. Community services that each client connects with are based on the aftercare plan prepared while in the inpatient portion of their program. Client's recovery plan progress is monitored by their aftercare co-ordinator and adjustments are made with time and progress.
Life At Top of the World Ranch TLP
There are 4 private bedrooms for clients at the TLP. Clients are provided a comfortable, furnished home including all bedding, cooking utensils, cleaning supplies and food. Clients provide their personal necessities and cook for themselves. Life skills are reinforced through daily mandatory programming.
In house programming focuses on daily self-care. Clients participate in morning check ins, meditation, in-house meetings, ongoing sessions with aftercare coordinators, and workshops covering life skills such as cooking, cleaning, and financial management. In-house programming also includes daily and weekly chores.
Out of house programming focuses on the individual recovery plan developed during inpatient treatment with opportunities to develop and implement projects to give back to the community and/or ranch. Peer group meetings such as AA, NA, CA, etc. are mandatory and clients are encouraged to work with a temporary or permanent sponsor from the community.
Our mission at the transitional living program is to be a bridge between inpatient treatment and independent sober living in the community. Our program helps clients fortify their after care plans and build confidence in their recovery in order to return to full and healthy roles in their own communities.
Please contact Top Of The World Ranch for further information.