British Columbia Addiction Treatment
Top of the World Ranch Treatment Centre was created as a place where those seeking addiction treatment could achieve states of calm and introspection, building towards their best self in the relative solitude of pristine natural surroundings.
With 600 acres on our property surrounded by 28,000 acres of Crown land, the Ranch is a truly unique treatment centre. We have witnessed how the natural setting enables clients to focus their minds on their recovery, while the trained staff and other clients form an empathic community, dedicated to helping each other reach their goals.
Rehabilitation and Recovery
We believe therapy not only treats the addiction but the person as a whole. Our mission is to equip you with tools that will allow you to thrive as an individual, reconnect with family and participate fully in the life you want to live.
Ranch owner and recovering addict
After many years of fighting tooth and nail, years of denial, trying to get and stay sober on my own, trying to convince myself that it would be different this time, I was given a moment of clarity to see myself as I truly was. I saw the reality of my addiction, I saw the damage that I was causing, I suddenly understood that the problems I drank about were not outside me – the problem was me – and that the change that was needed had to be me.
I was floored, I was beaten. And so, as to not leave my family the sad legacy of a dead alcoholic, I sought treatment. When I got on the plane to go, I had no real hope. I felt I could not be happy if I could not drink and knew that I could not be happy if I did. I felt damned. My life was in chaos and made no sense to me. I could not understand how this had happened.
My family and I had left the ranch twice, never to return, but we kept coming back. Something gnawed at me that this ranch had purpose and meaning that was yet unfulfilled.
I went to treatment. The lights began to turn on. I began to wake up. This was a great centre and experience, but something was missing and I knew that this "something" was in great abundance at the ranch. With time, I understood why my life had turned out as it did, in the necessary sequence in which it had unfolded. I knew with absolute certainty that the purpose and meaning of Top of the Word Ranch was intertwined with my own. I knew what I needed to do and why I needed to do it. It felt predestined, it felt certain, and it still does. Top of the World Ranch Treatment Centre exists because it was meant to. It works because it is meant to.
The Ranch as it is now is what it always needed to be. The people who work here understand this. The clients who come here understand this. There is no other centre like it. I have since obtained a Master of Counselling degree so that I may further help our clients because, you see, the real beauty of recovery is that by giving to others, we get more than we give in return.
I hope you choose us with the knowledge that we will offer you our best.
Most sincerely,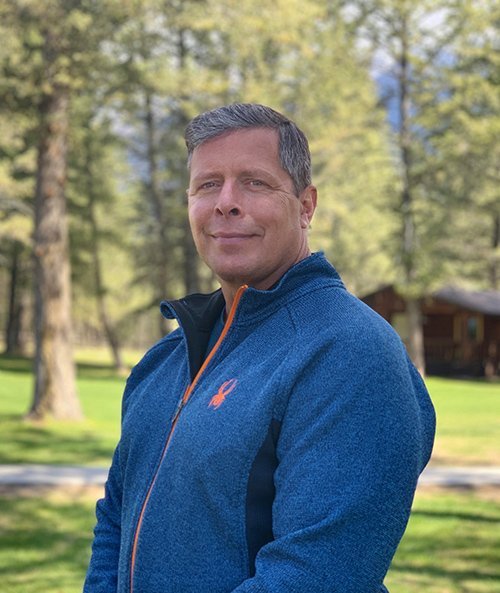 I stayed at the ranch for 90 days in 2019 and it was the best decision I made. My experience was very spiritual, it helped having 600 acres to explore in the Rocky Mountains and I love going for runs every day. The staff were very helpful and the programming was just what I needed to get my life back in track. 1 on 1 counselling and small group were my favourite programs but I enjoyed everything. Cheldon and Ryan are amazing chefs and I can't forget Linda, her desserts are amazing. I would like to thank John Tello (my counsellor) for challenging me in every way and for not allowing me to give up on myself, and Michael for continuing to help me with my aftercare. Top of the World has saved my life, my marriage, and has given me a second chance.
I was at the ranch in the late summer of 2018, I couldn't imagine a better place. Amazing staff from the counsellors to program coordinators and chefs. Such a positive experience. I have never been in a better place in my life. Would recommend to anyone.
It's been over two years since I stayed at the Ranch. If you are looking for a well-rounded approach to addiction recovery this is the place. It will change your body, mind and soul. The staff is amazing, the grounds are amazing and the food is amazing. But the most amazing part of this place is that if you allow yourself to be open you might just find yourself. They give you the tools but you still have to do the work. I still go back to the Ranch for the alumni sweats and the Saturday night meeting. If you're ready give them a call.
This place not only helped with my addiction, it helped me find myself again. It gave me my life back. I have never been more at peace with myself than since going to the ranch. Most amazing place on earth. Thank you!
This place is the definition of magic. This is a true place of healing and the safest place I have ever been in my life. All of the staff are amazing and truly, honestly care and the clients become family. I am so blessed to have had this experience in my life. A place where spiritual growth happens. A place where I learned to love myself. A place I will hold dear to my heart for the rest of my life.